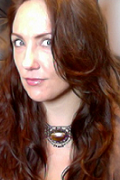 Erin Weston
Associate Teaching Professor
Religious Studies
---
Office: Online
Phone: 305-348-1329
Email: eweston@fiu.edu
Director: Program in the Study of Spirituality
Bio
Originally from San Francisco, California but raised in northern New Jersey, I have been fortunate to live in many interesting places. From 2003 through 2006, I lived on the Hawaiian island of Oahu and taught religion classes at Kapiolani Community College. I currently live in Miami and enjoy traveling to sacred sites in Europe and Asia when I am not teaching. For my undergraduate work, I received a BA in Religious Studies, a BA in Philosophy, and a Certificate in Women's Studies from FIU. I have a Master's Degree in Religious Studies (1999) and a Master's Degree in Asian Studies (2006) both from FIU. My Religious Studies thesis focused on a contemporary Japanese religion named Mahikari in the Caribbean island of Martinique. For my final paper in Asian Studies, I wrote about changes in the Shakyamuni Buddha's iconography as Buddhism spread throughout various locations in Asia.
My teaching and research interests have mainly focused on magic and religions, and Wicca and other magically oriented New Religions. I am deeply interested in religion in the popular context and the blending of the sacred and the profane, especially in everyday contexts and religious paraphernalia. This emphasis on ritual, magic, and contemporary religions has led me to explore the roles of entheogens and altered states of consciousness, particularly in the contexts of the Santo Daime religion from Brazil and Amazonian Neoshamanic groups found in the United States and abroad. I have also studied the various religions of Asia a great deal. My current position as a Digital Instructor combines my interests in religious studies, pedagogy, and technology.
More information: https://discovery.fiu.edu/display/person-westonerin-l
Selected Publications
Article

Book Review

Other Scholarly Work
Degrees
M.A. in Religious Studies (1999) 
M.A. in Asian Studies (2006)
Areas of Expertise
Magic and Religions and New Religious Movements.