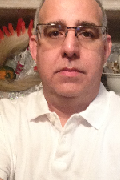 Jeffery Gonzalez
Assistant Teaching Professor
Religious Studies
---
Office: SIPA
Phone: 305-348-7266
Email: Jeff@fiu.edu
Bio
My teaching and research interests are primarily in the areas of African and African Diasporic Religions specializing in Cuba, Brazil, and Nigeria. My research looks at how diasporic traditions expand, interact, and adjust to new social and cultural environments, and how religion and culture meld and define a community's identity and social space. The role of women in diasporic traditions is central to my research. My theoretical background is interdisciplinary integrating the works of scholars such as French sociologist Pierre Bourdieu with the concept of capital, English sociologist Anthony Giddens with the analysis of reflexivity, and Cuban anthropologist, and ethnomusicologist Fernando Ortiz's framework on transculturation.
Since 2016 I have traveled to western Nigeria where I am studying the impact of renewed interest in Yoruba orisha tradition and how this continues to evolve into new forms of religious pilgrimage and tourism. Along with a focus on how technology plays a role in integrating and interconnecting various diversely located communities.
Degrees
Religions of the African diaspora in Cuba, Trinidad, Brazil, and the United States. Impact of religion on women and gender in the Caribbean.
He completed his Ph.D. in Spanish and Latin American Studies at the University of Reading.
Selected Publications
Gonzalez, J. M. (2023). Finding Orisha in New Places. In B. Hebblethwaite & S. Jansen (Eds.), 
Indigenous and African Diaspora Religions in the Americas
 (pp. 281–318). essay, University of Nebraska Press.