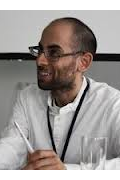 Iqbal Akhtar
Associate Professor
Religious Studies & Politics and International Relations
---
Office: DM 359B
Phone: 305-348-7098
Email: iakhtar@fiu.edu
Director: Jain Studies Program
Bio
Iqbal Akhtar is a dual-appointment in the department of politics & international relations as well as religious studies at Florida International University. He completed his doctoral studies at the University of Edinburgh's New College School of Divinity on the history of The Khōjā of Tanzania, an Indic Muslim merchant caste in East Africa. Some of his publications can be found on Academia. Currently, his research is focused on reconstructing the 18th century religious cosmology of the Sindhi Khōjā. Through the ongoing interdisciplinary programme being pursued at FIU towards a Muslim Studies programme, Khōjā Studies is emerging as an important component for international interdisciplinary scholarly cooperation.
At FIU, the courses Dr. Akhtar leads include: The International Relations of South Asia, Development of International Relations Thought, Gender and Jihad in the Quran, Islam and International Relations, Islamic Faith and Society, Islamic Political Thought, and Sufism: Islamic Mysticism.
Degrees
BA, Washington University, Political Science, 2002
MA, Tulane University, Political Science, 2004
MA, University of Denver, Religious Studies, 2008
PhD, University of Edinburgh, 2012
Areas of Expertise
Khōjā studies, Western Indian Ocean Studies, transnational histories, Sindhi and Gujarati Islamic literature, postcolonial thought, and Islamic studies
Selected Publications
The Khoja of Tanzania: Discontinuities of a Postcolonial Religious Identity
The Khōjā of Tanzania, Discontinuities of a Postcolonial Religious Identity attempts to reconstruct the development of Khōjā religious identity from their arrival to the Swahili coast in the late 18th century until the turn of the 21st century. This multidisciplinary study incorporates Gujarati, Kacchī, Swahili, and Arabic sources to examine the formation of an Afro-Asian Islamic identity (jamatī) from their initial Indic caste identity (jñāti) towards an emergent Near Eastern imaged Islamic nation (ummatī) through four disciplinary approaches: historiography, politics, linguistics, and ethnology. Over the past two centuries, rapid transitions and discontinuities have produced the profound tensions which have resulted from the willful amnesia of their pre-Islamic Indic civilizational past for an ideological and politicized 'Islamic' present. This study aims to document, theorize, and engage this theological transformation of modern Khōjā religious identities as expressed through dimensions of power, language, space, and the body.